Survey: 2023 finance systems plans among high-growth companies
In late November 2022, we surveyed over 130 finance and finance systems VPs, directors, and senior managers at high-growth digital companies on their organizations' 2023 plans.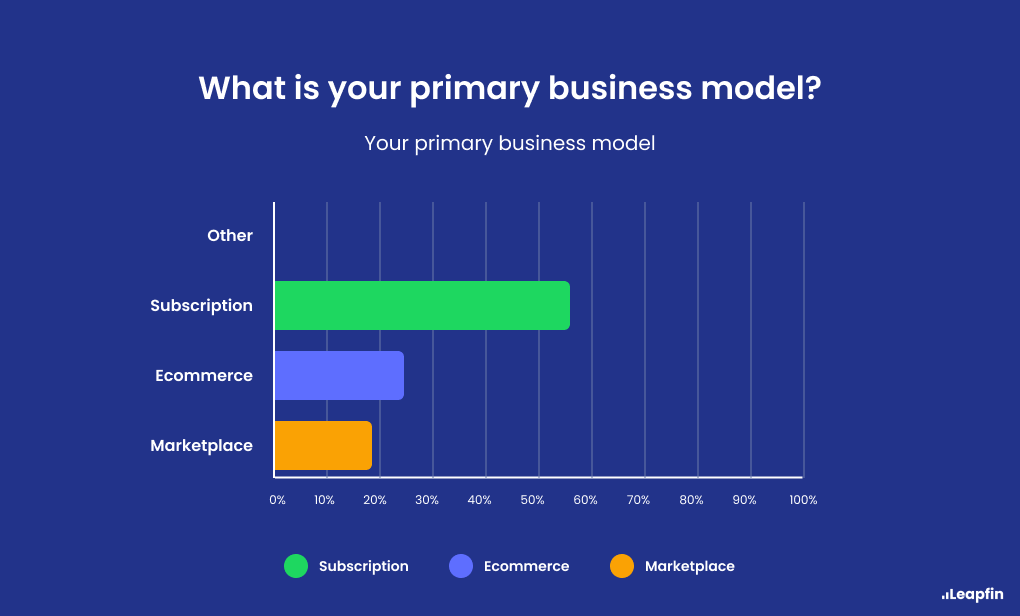 Here's what they shared with us.
What roles do you expect to grow in your teams in 2023?
Slightly over half — 51% — said they expect to add finance systems or finance ops headcount into their finance team in 2023. 58% of subscription companies reported this, while only a bit over 40% of marketplace and ecommerce companies expected an increase.
Only 40% said they expect to add accounting staff, with subscription companies least likely, at only 32%, to add accountants.
FP&A teams look least likely to grow, with only 37% of respondents expecting increased headcount, although there was wide variation. Slightly over half of the marketplace respondents expect to add FP&A headcount, followed by ecommerce (48%), and only 30% of subscription companies.
Here's the breakdown of the answers by industry.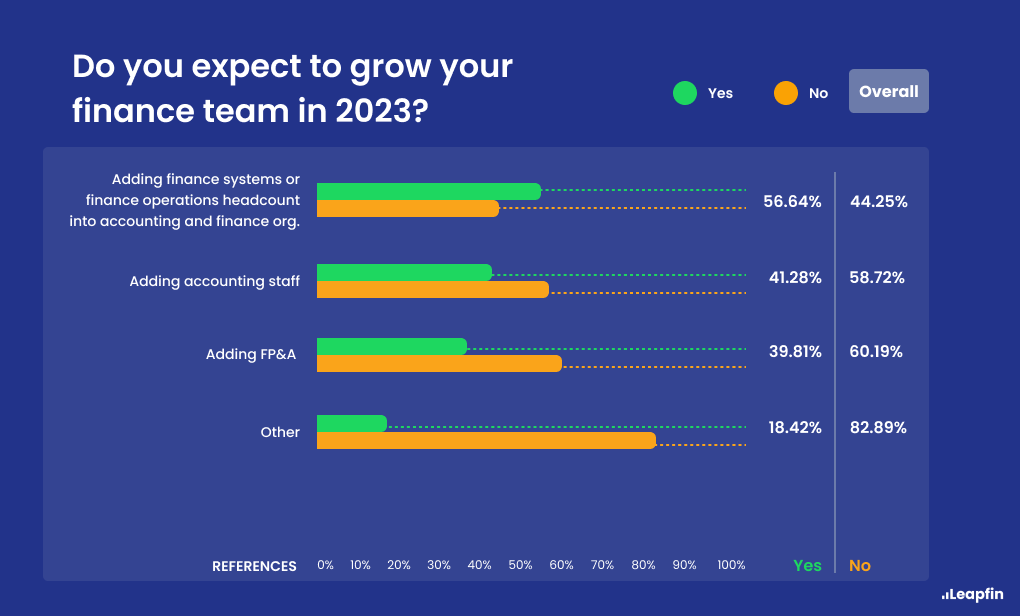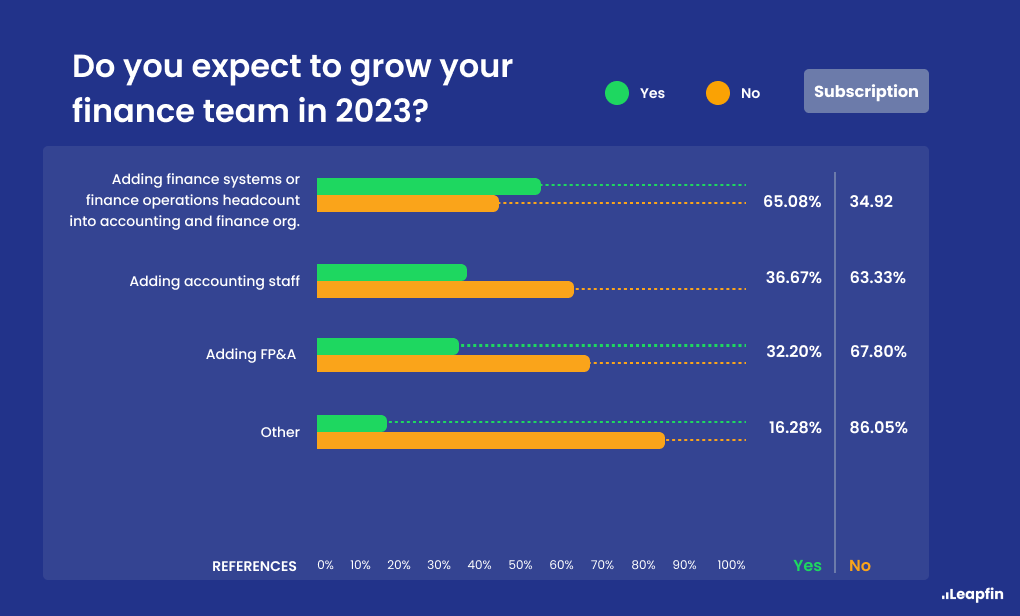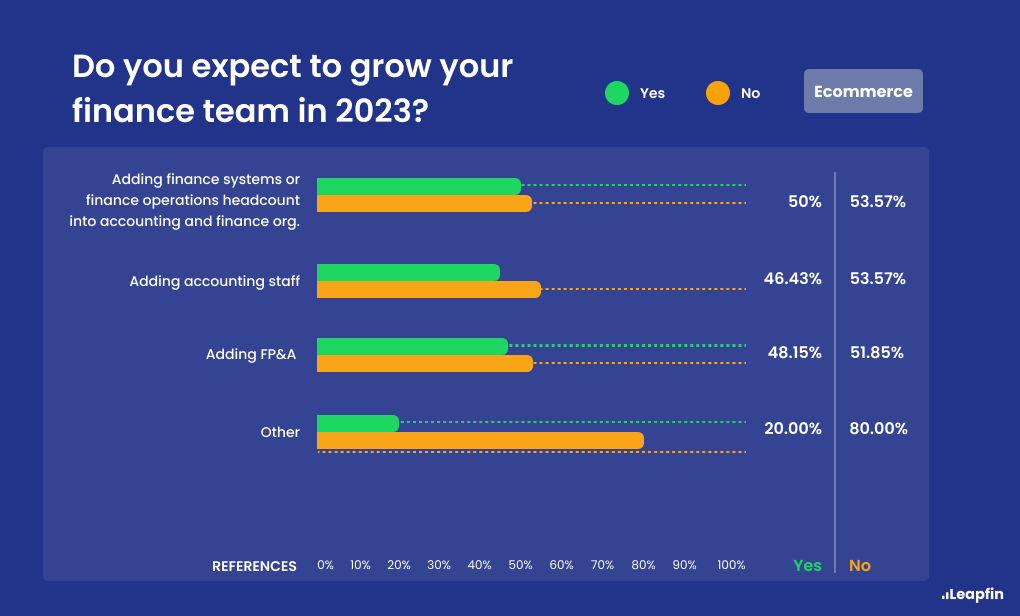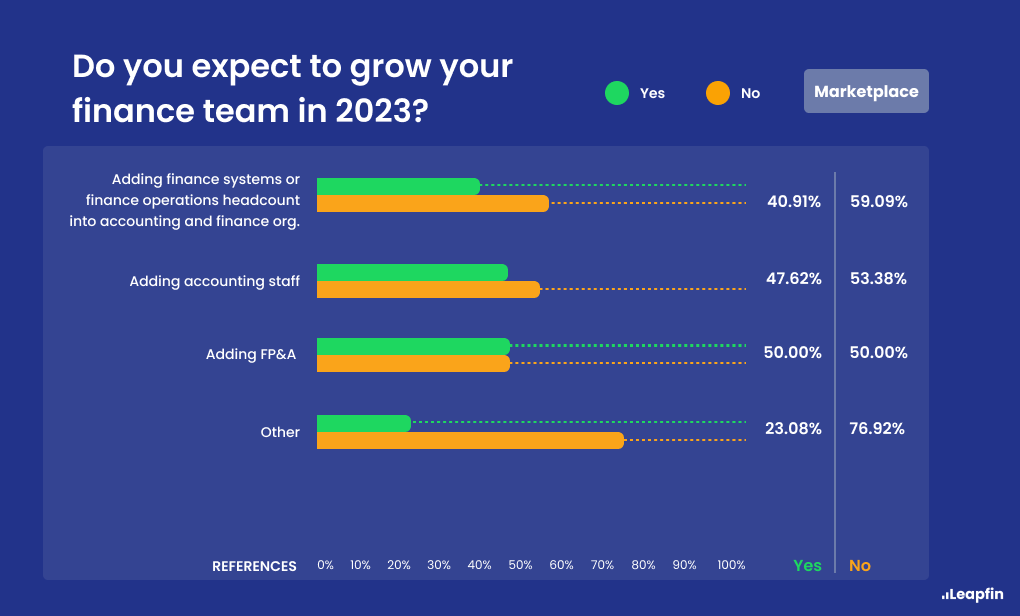 What changes to do you expect to finance's scope in 2023?
Regardless of business model, over 75% of participants expect transaction volume to increase. On the other hand, except for a slight majority of ecommerce respondents, only about one in three subscription and marketplace companies expect to add PSPs. And slightly under half of respondents across each business model expect a major finance transformation initiative.
Notwithstanding the increases in transaction volume and the expectation of transformation, only about 40% of respondents expect any increase in their team's budgets.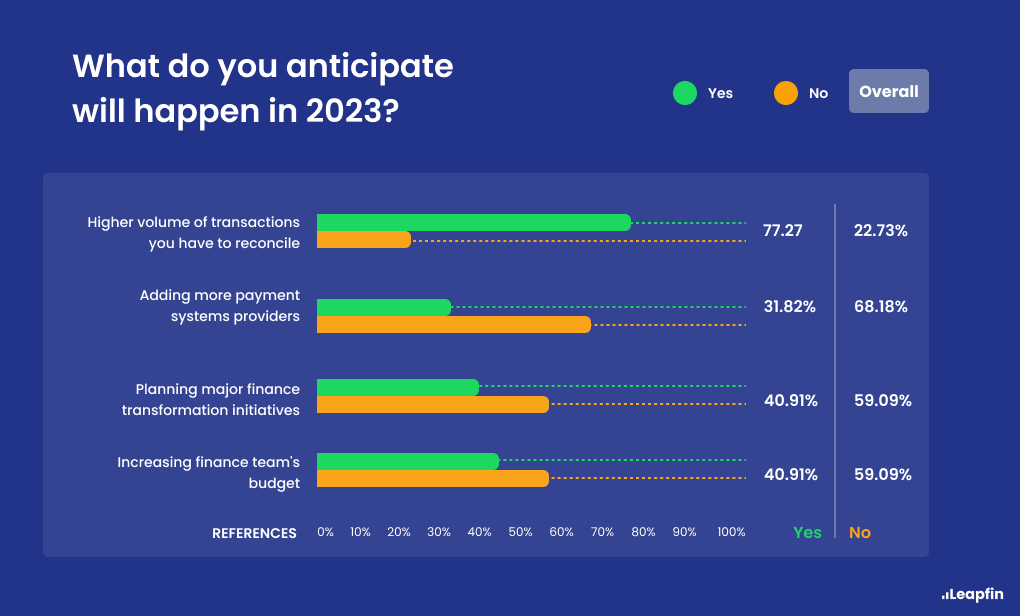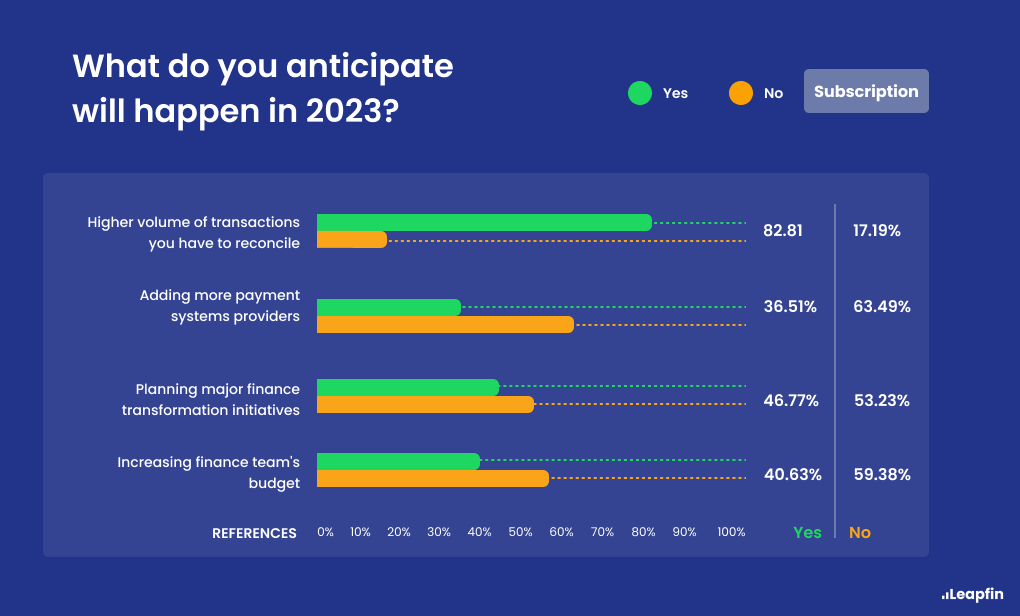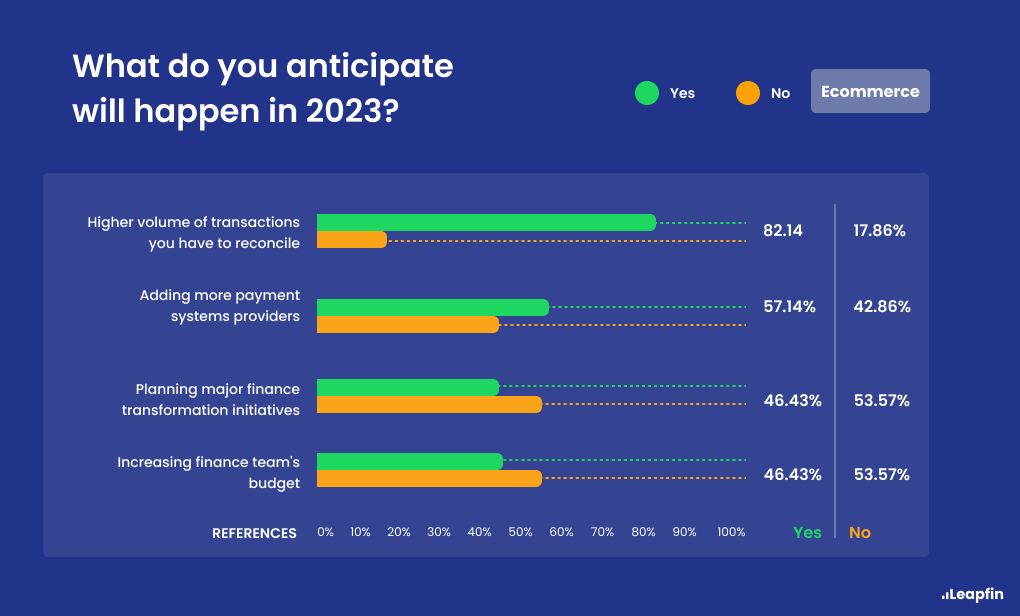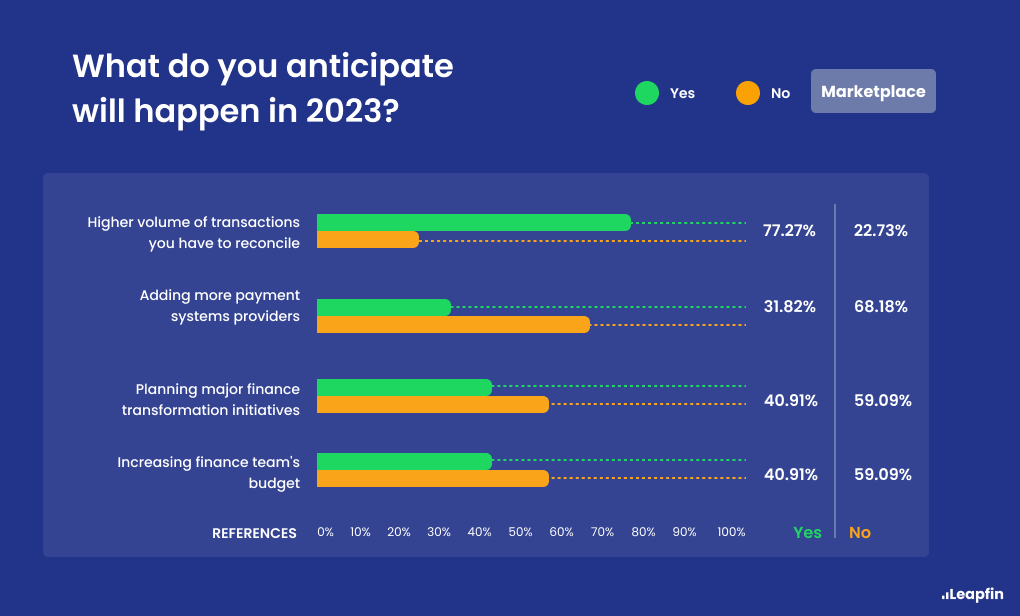 Do the results look different for those companies investing in finance systems staff?
The 51% who expect to add finance systems staff are much more likely to have other positive indicators, compared to those who aren't:
| | | |
| --- | --- | --- |
| | Adding Finance Systems | Not Adding Finance Systems |
| Increasing transactions | 91% | 67% |
| Adding accounting staff | 70% | 16% |
| Major finance transformation | 70% | 23% |
| Adding FP&A Staff | 65% | 13% |
| Budget increase | 62% | 16% |
| Increasing # of PSPs | 46% | 33% |
The importance of building community
We fielded this survey because in our conversations with customers, we've heard over and over that finance and systems leaders in high-growth digital companies are blazing a new path and aren't sure where to turn for important advice that's relevant to their situations.
In the months to come, we'll be acting on what we heard, from creating ways to meet peers in similar companies, publishing more content, and much more. If you'd like to learn more, please join our email list.