Leapfin partners with Connor Group & hires first VP of Product to accelerate Finance Data Platform
Partnership with leading professional services firm and appointment of former CFO and long-time finance software product leader will accelerate real-time decision making for modern Finance teams
Leapfin, the company behind the pioneering Finance Data Platform, announced this morning a partnership with the Connor Group and the appointment of its first VP of Product, Caitlin Steel. These additions combine the best resources for Finance and transformation and the best technology to support modern, real-time Finance decision-making.
Partnership with Connor Group
The partnership with Connor Group, a leading specialized professional services firm solving complex finance, operational, and technology challenges for its customers, will help joint clients transform and automate financial processes, prepare for IPO, and maximize profitability for upcoming financing events.
Today's wartime CFOs need to be armed with complete, detailed, and up-to-date data to be able to make critical decisions in a tough market regarding cash position and profitability. Digital businesses process transactions with a diverse finance technology stack including billing systems, payment service providers, and mobile app stores; the existing Order to Cash process needs to evolve to provide Finance with ownership over transaction data.

We're excited to partner with Connor Group, whose services and expertise are renowned in Financial Operations and readiness for IPO and other strategic financing events, to help more CFOs drive business success with real-time data, deliver joint value of our Finance Data Platform, and provide shared expertise to our mutual customers. Our partnership will help arm CFOs with the tools they need to accelerate the path to profitability efficiently and at scale.

In fact, it was one of our customers who introduced us, and we're looking forward to sharing more of the joint value we're creating with them and others in the near future.

Ray Lau, CEO, Leapfin
Partnering with Leapfin, a leading finance data platform, will allow us to bring a pre-built automated solution to our clients that facilitates recording and reporting high volume customer transactions. Top growth companies rely on Connor Group to solve their most complex technology and business issues. Leveraging our accounting and engineering experience we bridge the gap between finance and technology solutions.

Connor Group and Leapfin together provide accurate financial data in real-time to successfully support informed decisions. Implementing the Leapfin platform is an obvious enhancement in the value we bring our clients.

Lauren Bowe, Automation and Analytics Leader at Connor Group
VP of Product, Caitlin Steel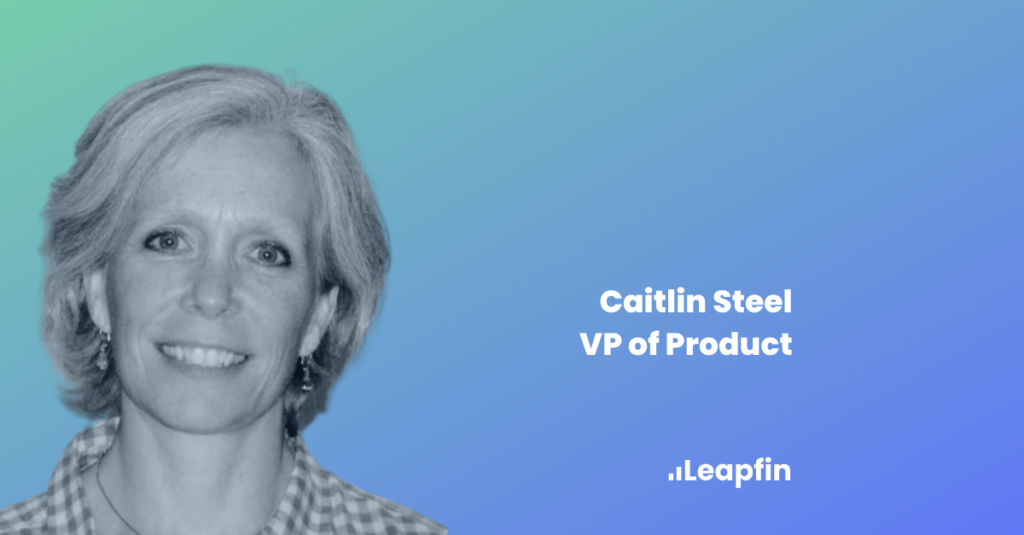 The appointment of Caitlin Steel brings her over a decade of expertise building products for Finance team transformations, from Blackline, Xactly, and OpenGov, as well as prior experience as a CFO.
As a CFO I hated relying on manual processes to close the books, manage audits, and provide my business partners with solid information. Those manual efforts kept my team and I from spending the majority of our time where we wanted to be: improving profitability, helping identify smart operational and strategic investments, and supporting the CEO and Board.

Since becoming a Product leader, I've been on a mission to free Finance teams to manage what matters, but we've been fighting a losing battle against the proliferation of operational data and systems that Finance teams have to reconcile. I'm so excited to join Leapfin's leadership team, who share my vision of Finance teams powered by the data they need, when they need it, at the level of detail they need — instead of stuck in workflows and Excel.

Caitlin Steel, VP of Product, Leapfin
For more on how Leapfin is fulfilling the promise of Finance Data Platforms, please join us on April 25, when Caitlin will introduce a wide range of new capabilities.
About Leapfin
Leapfin turns operations data into finance data in real time for the world's leading digital brands.
The Leapfin Finance Data Platform unifies billing, ordering, payment, CRM and other production data with intelligent accounting automation to create a GAAP-compliant, immutable Leapfin Financial Record for every transaction.
The Leapfin Finance Data Platform provides reliable and fast financial reporting to controllers, transaction-level detail for analysis to finance and visibility to real-time revenue to decision makers.
Canva, Reddit, SeatGeek, Medium, Vimeo and many other fast-growing, high-volume digital brands trust Leapfin to be their finance data system of record.
Visit leapfin.com to learn more.
About Connor Group
Connor Group is a specialized professional services firm of Big 4 alumni and industry executives. Connor Group's team of highly experienced professionals helps financial executives with their most complex and significant matters, including financial accounting and operations, IPO and M&A services, digital solutions, and managed services. The firm was founded in 2006 and has grown to more than 500 professionals with core offices in Silicon Valley, San Francisco, New York, Salt Lake City, and Boston. Visit connorgp.com to learn more.