Does Your High Growth Company Need Finance Operations?
One outcome of the COVID-19 pandemic is that digital transactions are moving faster than ever. According to KPMG and Forrester, the world is navigating a "great digital acceleration race."
"This calls for flexible, 'commerce everywhere' business models, and a renewed focus on employee experience to drive an enhanced customer experience," explains Miriam Hernandez-Kakol, global head of management consulting for KPMG.
Behind the scenes, finance and accounting teams are working around the clock to adapt to this new, fast-paced reality of business.
With more data complexity and higher transaction volume, it's mission-critical that finance leaders at hyper growth companies are well supported through this fast-paced time. Financial data is the backbone of a company and the single-most important determinant of an organization's health.
Airbnb's COVID-19 Response Was Powered by Finance
There's no blueprint for navigating the unique combination of political risks, economic instability, climate change, and public health challenges that impact every human on earth. We need to, for lack of better words, figure it out.
With a risk landscape that is changing faster than human minds can keep up, organizations need to respond with agility rather than reactivity. Consider the case of Airbnb as an example, which survived a sudden shock to its core operations.
In April 2020, Airbnb's gross bookings took a 72% year-over-year nosedive with more cancellations than bookings in the months of March and April. The company's financial landscape shifted suddenly and unexpectedly. These changes resulted in a more complex financial landscape, almost overnight, both in terms of transaction volume and overall business performance.
The diagram below is just a snapshot of Airbnb's extremely complex business model: Multiple revenue streams, dozens of host and guest fees, partners with 20+ payment service providers. These are all moving pieces that affect back office operations. This data complexity coupled with high transaction volume makes it nearly impossible to perform good data analysis. One small change can cause finance to spend months revamping entire processes, ultimately impacting the accuracy of financial reporting.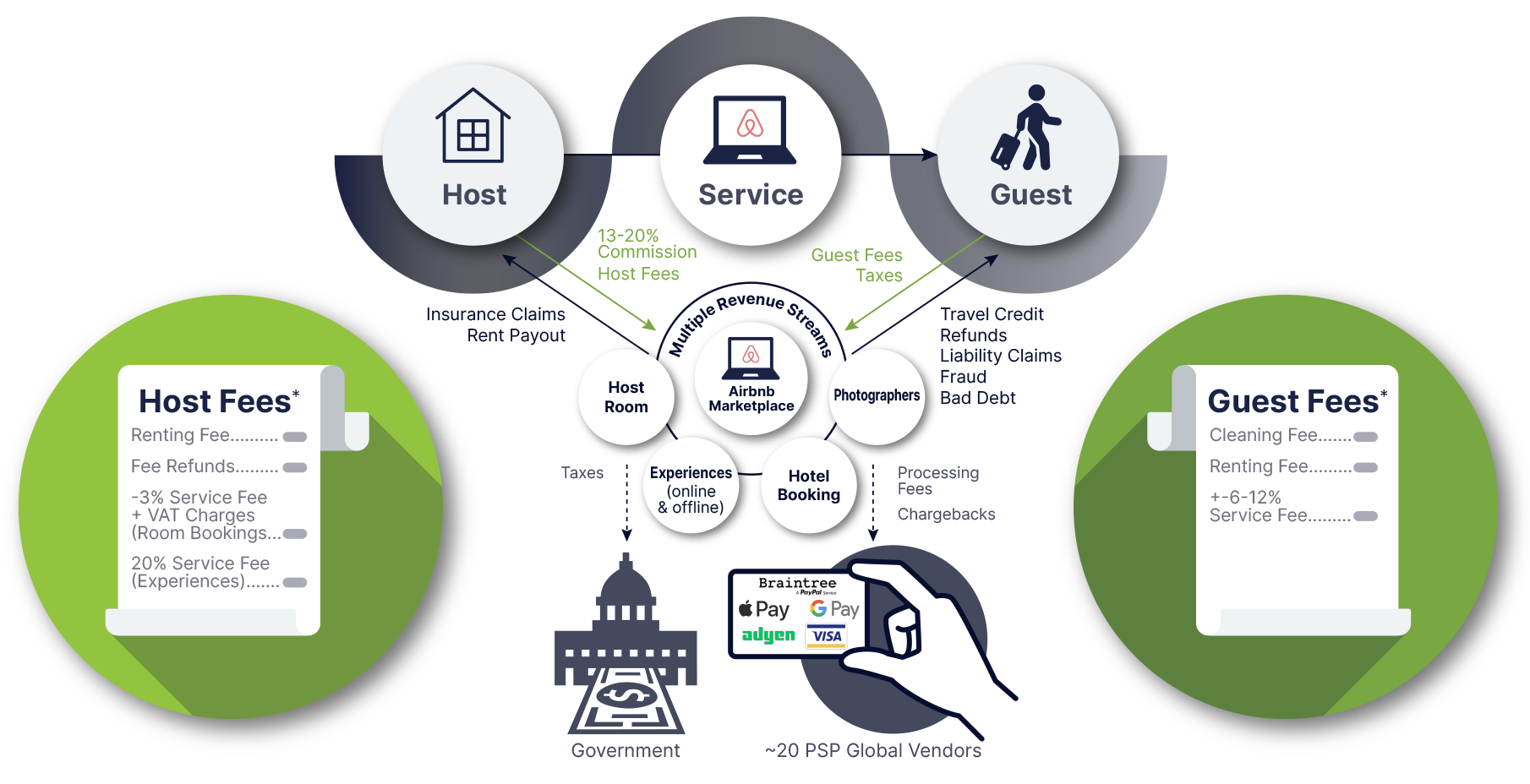 Despite these complexities and challenges, the management team responded with well-calculated next steps that included implementing new safety protocols, working closely with hosts to recoup their losses, creating a new line of business for online experiences, and promoting local staycations. By June, Airbnb experienced a 1% increase in gross bookings.
It's the efficient finance function supported by finance operations that puts companies like Airbnb on the front lines of economic progress. Think about the tiny decisions that go into informing such bold, methodological, calculated, and precise judgment calls. To understand what's possible, organizations need real-time, in-depth, and multidimensional financial pictures.
Embrace the Need for Finance Operations (FinOps)
For many companies, especially fast-growing organizations, finance is facing major operational challenges.
Sales and marketing functions have spun off their own specialized "operations" groups supported by technology like Salesforce and Marketo to make sense of this high volume, high velocity information. Finance and accounting teams also need supporting Finance Operations groups for agility and access to real-time insights.
Specialization within finance will enable your entire team to do more. FinOps will focus on gathering, extracting, and preparing data for Finance. Finance will then spend less time on manual and error-prone processes, and more time analyzing financial performance and supporting strategic business decisions.
Finance Operations is key to ensure that your finance leaders remain empowered, forward-moving, and resilient to external pressures.
If you're interested in learning more about how your team can benefit from Finance Operations, click
here
to see a demo of Leapfin and learn how we can help!